This post is also available in:
English

Svenska (Swedish)
Go for God.
Join a global movement, full of young people
driven by a passion to know God and make Him known.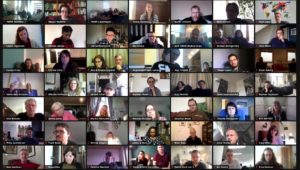 Zoom Zoom Zoom...
In the past years we have had lockdowns and restricted movement, meetings etc.
Do we see fear or do we see opportunity?
Churches and YWAM training centres have been emptied, but with the latest technology of cameras, Zoom, Microsoft Teams, StarLeaf, Skype, Youtube, Facebook etc have enabled us to not only keep in contact with our friends, but also given us new opportunities to reach into places and peoples who perhaps would not have come to us in person (yet).
Let's use the tools that are available and see them as a gateway into new areas to strengthen and expand our existing works.
Genesis
The UofN Genesis Centre is now hosted by YWAM Dalarna.
We have been using interactive videoconference technologies since 1995, bringing classrooms and people together as if they were in the same room.
Technology changes and the Genesis Centre is researching new ideas, tools and technologies to serve the Mission, the University and the church, helping us to keep connected and in touch with one another.
Launching waves of missionaries into the world since 1960.