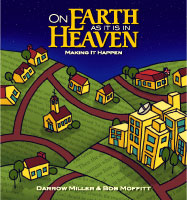 The last year and a half we have been working on a translation of Darrow Miller and Bob Moffitt's material "On Earth as it is in Heaven".
This course is written to and will challenge your paradigm of the role of the Church in society and provide you with practical ways to help your church become a powerful force for advancing God's Kingdom in your community and nation.
It is about living our lives in todays society with the principles of the Bible, and make a difference.
"This course will not only change your life, it will change your family, it will change your community and it will change your nation, and the nations of the earth."

– Loren Cunningham, Founder of Youth with a Mission (YWAM)
If you want to know more you can look at the official webpage or contact us.